2 Layer Tribal Braids
Are you looking for a fresh braided black hairstyle? If yes, we're here to assist. Today, we're bringing you 13 ways to wear 2 layers of tribal braids. Two-layer tribal braids are stunning and allow you to make numerous hairstyles with stylish styles. Therefore, have a look and discover the perfect hairstyle to protect yourself. Everything from bright braids in color and techniques adorned and fashionable braided designs. See how they can change the way you look by checking out their braids! It's impossible to choose just one of them because they are all so beautiful.
1. A beautiful tribal braid with two-layer
To start, we'll braid two layers of gorgeous braids. Most braids are hefty, and some are thin, creating a trendy design. The lengths of the braids are lovely and enhance the hairstyle. Overall, it's an easy and beautiful hairstyle that any person can wear for any occasion.
2. Trendy zig zag hairstyle
If you're looking to test an innovative new hairstyle, this might be the right choice for you. We have incredibly long braids with two layers here, and the hairstyle is topped with a zig-zag parted. You can tell the hairstyle is easy; however the zig zag-style parting makes it more interesting. It's such a cool and trendy style. It is possible to recreate it or experiment with shorter braids. A zig-zag braid would be adorable.
3. Feed-in two-layer tribal braids
Get your hair looking glamorous change with braids that look like these! This style features long braids with light and warm shade. We love the style. The half-braids that are swept back like this are a lovely and fashionable way to style your hair. Hairstyles like this are flexible and are suitable for any occasion, from work to night out. Make this hairstyle with any color if the brown hue isn't your style.
4. Two-layer chunky tribal braids
We'll achieve an easy-to-wear look by wearing two layers of chunky braids. We have extensive and chunky braids that have simple braided patterns. The hair looks effortlessly beautiful. Make sure to try longer braids to get a more glamorous look, or attempt the same braids with shorter lengths to create a chic look. We think these braids could be stunning in a different color as well. Perhaps you could try a red or Burgundy.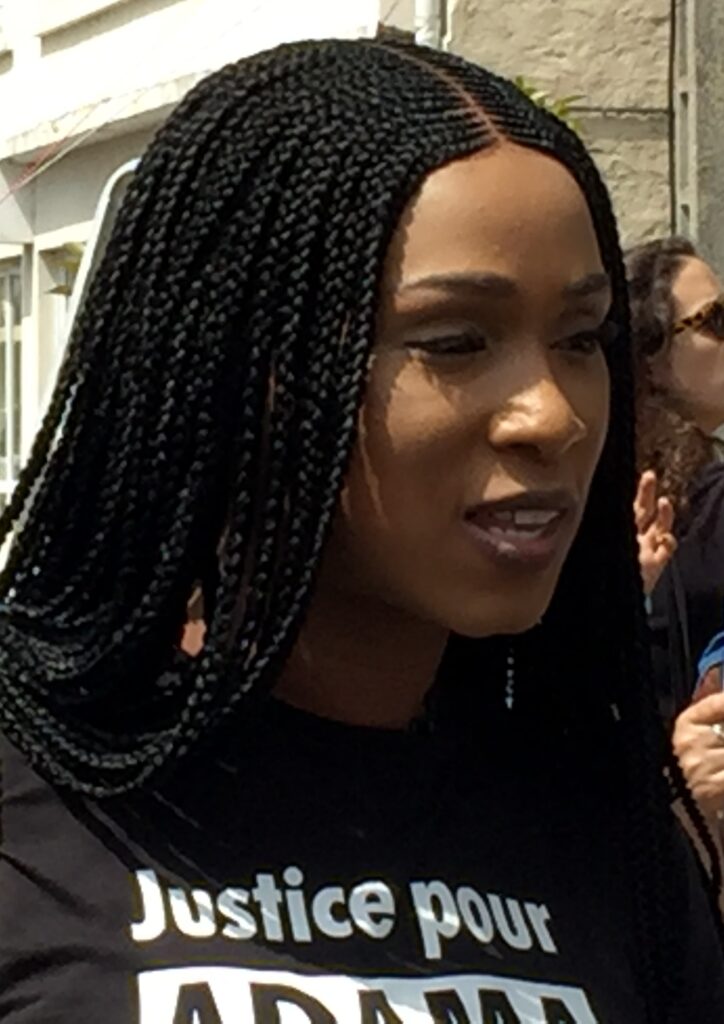 5. Stylish and long tribal braids
Our next hairstyle features long braids. The braids are long and elegant with a trendy braided pattern. This is a fashionable look that can change your appearance. Keeping your hair simple like this or putting on some accessories is possible. Gold hair accessories can be stunning with braids such as these.
Read More: What Are The Fulani Tribal Braids? 23 Best Ideas to Make A Fulani Tribal Braids
6. Dark blue tribal braids
This hairstyle is a different one that is easy and simple to wear. The braids of two layers are long and have delicate braided patterns. Fashionable and glamorous, this style is sure to appeal to everyone. If you like bolder designs, You can also use lighter colors or accessories. The Ombre color is gorgeous.
7. Bold and long 2 layer tribal braids
We love this hair design! We have two long layers of braids. The braids are split wraps around the head, not straight down like you typically find. The braids are also black, then transition into red, and finally to white. This hairstyle is ideal for women who wish to make their hair stand out with a dramatic transformation.
8. Chic tribal braids with accessories
These braids are skinny, with a central split. It's such a glamorous and attractive look that it will be perfect for anyone. If that weren't enough, braids could be adorned using wooden beads. We love hair accessories made of wood because they look stylish and natural. This hairstyle is stunning, and you can replicate it or make it your own by using various accessories.
9. Multi-tone layer tribal braids
The next hairstyle is one of our favorites! This hairstyle has two layers of braids that are multi-tone. One layer is warm brown color while the second layer of braids begins with a black and later shift to blonde. The color change is impressive and genuinely showcases the look of layers. This style is perfect for summer. You can try a similar hairstyle or pick two different shades. Perhaps you should go with more vivid and bright hues.
10. Two layer bob
Why not try the two-layer technique to get the perfect braided Bob hairstyle? A side part is a good option since it looks impressive for virtually any facial shape, but a central part could also work.
11. Jumbo two-layer tribal braids
This hairstyle uses a creative design on the scalp, and it's a great alternative from the standard horizontal two-layer hairstyles. This style usually is best paired with large Jumbo braids to create structure.
12. Electric blue tribal braids
The addition of color is the best method of expressing yourself with your two-layer braids. You can braid in electric blue hues or perhaps in red and purple shades. We love how these braids get thinner as they get longer to create flowing, mermaid hairstyles.
13. Soft half-up style
This easy and quick half-up look comprises two-layer braids already finished. By pulling to the rear two braids to each side, the watch will have an extra twist while keeping your hair off your face when necessary.
FAQs
Two-layer braid takes how long to complete?
It takes about one to three hours to complete this style, depending on the type of braids you have.
Which protective style lasts the longest?
Box braids are likely the best option for retaining length in type 4 hair since they last the longest. Protective styles are low maintenance and can be worn more often than twists.